Over The Moon – Sister Cities of Houston 2019 Fall Concert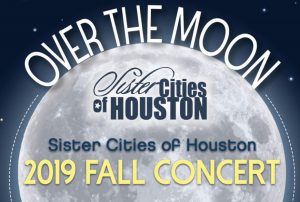 Sister Cities of Houston presents their 2019 Fall Concert, Over The Moon at the Midtown Arts and Theater Center Houston (MATCH) at 7 PM on Friday, November 22. The event will feature performances by Mariachi Luna Llena, Kim Kuja Korean Dance, Treble Choir of Houston, Anjali Center for Performing Arts, and Eliot Stone.
Click here for more information about the event and how to purchase your tickets.