Yvonamor Palix Fine Arts Presents Flight of the Monarch
October 4, 2019

-

January 11, 2020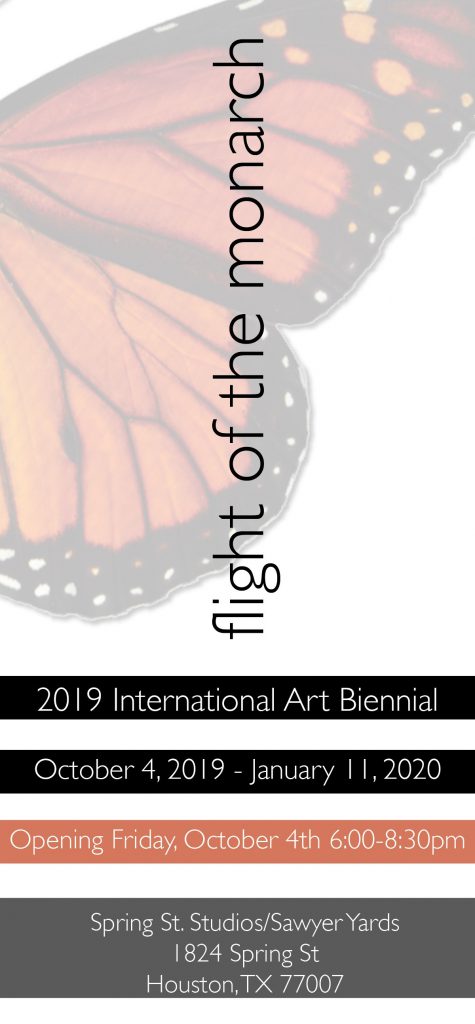 I am honored to curate an exhibit in such a wonderful venue full of talent, creative force and solidarity. 
The title "Flight of the Monarch" was born from my personal experience having visited the Monarch Sanctuary in central Mexico. It is amazing what these small insects achieve, some of it comes from their perseverance and sense of mission, however much of it comes from their action as a mass.  I hope this exhibit reveals the power of the artist as an individual and as a whole without limitations and restrictions. I asked Mark Ross to write the text with his intuitive and eloquent style and thank every one involved in this beautiful exhibit. With these notions in mind we welcome you to the International Art Biennial-Houston. 
Yvonamor Palix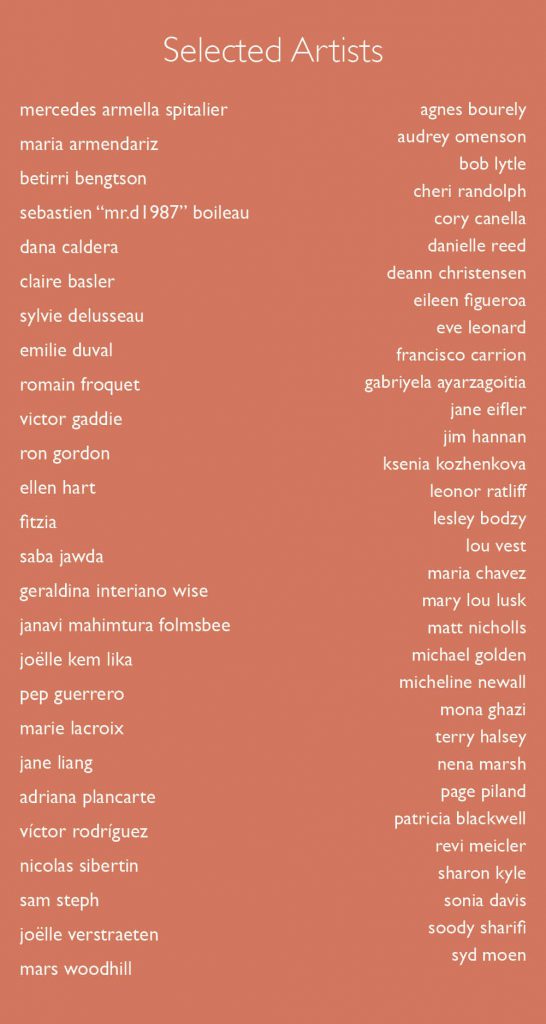 Program of events during the biennial: 
Opening reception with honored guests, city officials and Houston diplomatic corps on Friday, October 4th 6:00-8:30pm.
Opening night music by harpist Joanna Whitsett.
International chefs will delight the public with petite delicacies inspired by the artworks from the biennial.
Ars Lyrica Houston and Houston Early Music Festival ensembles will perform music from Renaissance and Baroque eras on various period instruments and present the instruments in a family friendly atmosphere. (November 9th)
Fashion Fusion, a pop up featuring Houston's most audacious fashion gurus and designers, inspired by the artworks of the biennial. (December 14th)
"Las manos de la mariposa" (The Hands of the Butterfly), a theatre production by Spanish Director Domingo Ferrandis. (Date: TBD)
"The Art Market", a talk with Rich Ferrante, director of Art Dallas Contemporary, innovative Houston art galleries, art patron Judy Nyquist, and international artists. (November 9th)
"The Butterfly Talks" (a take on the The Moth Talks) with Ms. Keli Chevalier, US Army Major and author of "From Trauma to Triumph". Other speakers include, musicians, artists, and other professionals. (October 12th)
Dialogues + Action,   Nonprofits will gather to exchange ideas and methods for optimization of the associations. TFAA, EFGH, HEP, PART, Choose to do INC, the W.A.V.E. Chronescolitisfondation (December 14th)
Nahual Project  University of Houston Brain Center headed by Dr. Jose Contreras Vidal and live Art Performance by Artist Geraldina Wise Iteriano. (For exact date and time please consult the website)
Inspirational Design, a walk through presentation by interior designers, who will create a vignette inspired entirely by one or more artworks from the biennial. Guest designers: Geraldine Dyen from Texture by G Interior Design Studio, Mayita Garza Design Studio, Lucinda Loya, Delphine Rome Robert of Remanence Interiors. (November 9th)
Click here if you are attending.
Please contact the gallery for more information:
Yvonamor Palix Fine Arts Gallery
yvonamor@gmail.com
https://ypalixart.com/
281 467 6065