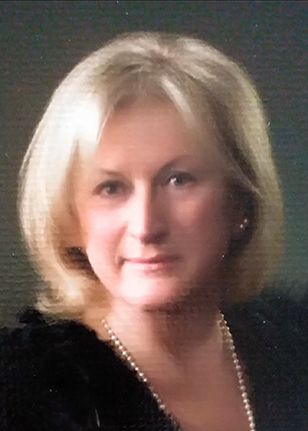 Burga Santiago
I was born in Germany and came to the United States in 1962. We, my family and I, lived in Sacramento, California for 7 years, two years were spend on Guam and one year in Omaha. Since 1972 we have lived exclusively in Santa Clara County, California. Besides raising a family of four I also started to work for Bank of America  (11 years).  While working I obtained a degree in Political Science and International Relations, Santa Clara University. In 1985 I started my career in Public Safety. I became active in our Union, held several positions on the Board and was eventually elected President.
At the same time my late husband and I became involved in numerous professional, community and political organizations.  I was appointed Commissioner of the Santa Clara County Region of Moscow Sister Cities, serving on that Board for 10 years.  In that capacity I visited Moscow, hosted several delegations and planned their itinerary. In an unofficial capacity I traveled with the San Jose /Dublin SisterCities delegation to Dublin, Ireland in 2016, to celebrate the 100 year anniversary of the Easter Rising. When San José  hosted the annual conference 2014 I was a panel participant.
Now being retired I  devote my time in community activism and voluntarism, Friends of Spartan Veterans, Fraternal Order of Police Lodge 52 (Treasurer),  Lt. Jose Santiago Foundation, and international projects under the  auspices of the San Jose Rotary Club.    In between the different projects I travel the world to satisfy my curiosity about other people, their culture, country and political systems.
Statement of Interest
I have been involved with Sister Cities International for the last 20 years.
First as Commissioner on the Board of County of Santa Clara Region Of Moscow, Federation Sister-County Commission as Vice-Chair for most of the 10 years.
I remained engaged even after I was no longer a commissioner, lending my expertise, advise and hosting Sister Cities guest from abroad.
Currently I am Board Member of the San José Sister City Program.
As I have now the luxury of time, being retired, I can devote more time to bigger projects and demands.
Most of all Sister Cities International is an organization in which mission I firmly believe in and want to contribute my expertise, time and resources. What attracts me to the organization is the hands on interaction with people from around the world, learning and sharing globally.
Lastly, I want to be a role model to my eight grandchildren, instilling in them a sense of civic duty.
Skills and Assets
Supervisory
Investigative
Report Writing
Organizational
Interpersonal Communication
Language; fluent in German, Intermediate French, some Spanish
Writing
Leadership
Goal oriented
Lived other parts of the world
Well-traveled
Can adapt to different Cultures
Degree in International Relations
Have many friends world wide
Retired
Time is not an issue