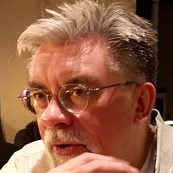 Fred Blanton- SCI Honorary Board Chair
Fred Blanton has been active in Sister Cities International (SCI) since 1983 when he got his first taste of sister cities as an Exchange Student – from St. Louis Missouri to Baden-Württemberg Germany. Since that time he has attended every SCI Annual Conference since 1998.
He was elected to multiple terms on the SCI Board of Directors from 2005 to 2011 and served as Treasurer from 2007 to 2010.  After his term on the Board ended, he was appointed to the SCI Honorary Board Alumni in 2012 and was elected as the Chair in 2016.
He was appointed as the SCI State Representative for Virginia in 2017 and supports sister cities and future sister cities in the Western part of the State.
Fred has been a member of the Alexandria VA,  Arlington VA, and Washington DC Sister Cities Chapters since 2005, the Missouri Sister Cities State Chapter – from 2000-2005, and the St. Louis, MO Sister Cities Chapter from 1983 to 2005 where he served on the St. Louis Sister Cities Board of Directors from 2000 to 2005.