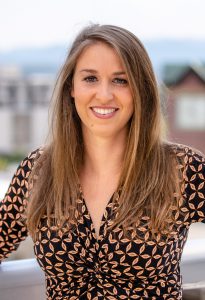 Jessica Coffield
I was born in North Carolina and raised by parents who knew the value of exposure to varied places, people and ideas at a young age. I developed an interest in international relationships as a participant in ModelUN in high school. In college I studied abroad followed by time abroad after graduation in 2009.

After settling in Asheville, North Carolina I immediately sought out the local Sister Cities organization and became immersed in volunteer service. In my second year as a member, I stepped into the role of City Chair and helped to plan and execute a 26-person delegation trip to our sister city of Saumur, France. I served as chair for four years before being asked to take on the role of Vice President followed by President of Asheville Sister Cities—a role I currently serve. As I write this, my husband and I are 72 hours away from leaving for a trip to Scotland and our Sister City of Dunkeld and Birnam.

The excitement I feel for finally getting to travel again after a long hiatus during the pandemic is overwhelming! While the scenery is incredible, I am most looking forward to seeing people I've met through previous travels and virtual meetings, as well as forming new relationships and making new bonds that allow us to better facilitate exchanges, programs and education for each of our communities.
Personal Statement 
I truly believe in the mission of Sister Cities International and have long been a proponent of citizen diplomacy. When living abroad, I helped form a dinner club with local students attending a school for learning English so that we could meet once a month and prepare dinner for one another in the traditions of our native countries, share stories, and come together as a family while away from home. 
Relationships like these are the foundations of making the world a much more understanding and accepting place. I want to be a part of helping to further that mission in as many ways as possible. I would like to offer my own experiences, perspectives, and resources to the Sister Cities International board so that the organization can benefit from my current knowledge while also training me through experiential learning to bring new skills to our global community. 
The more I can contribute my time, the more I grow and develop a better sense of understanding—a honed skill set that I can reinvest in my service. It will be an honor, a challenge, and a responsibility that I'm keen to take on.   
Skills/Qualifications
Having served on three community boards for a total of ten years, I have developed skills related to board management such as interpersonal relationships, time management, strategic planning, financial accountability, coalition building, plus written and verbal communication skills.

I've attended many conferences and completed multiple courses in leadership training.

I strive to practice the principles of servant leadership.