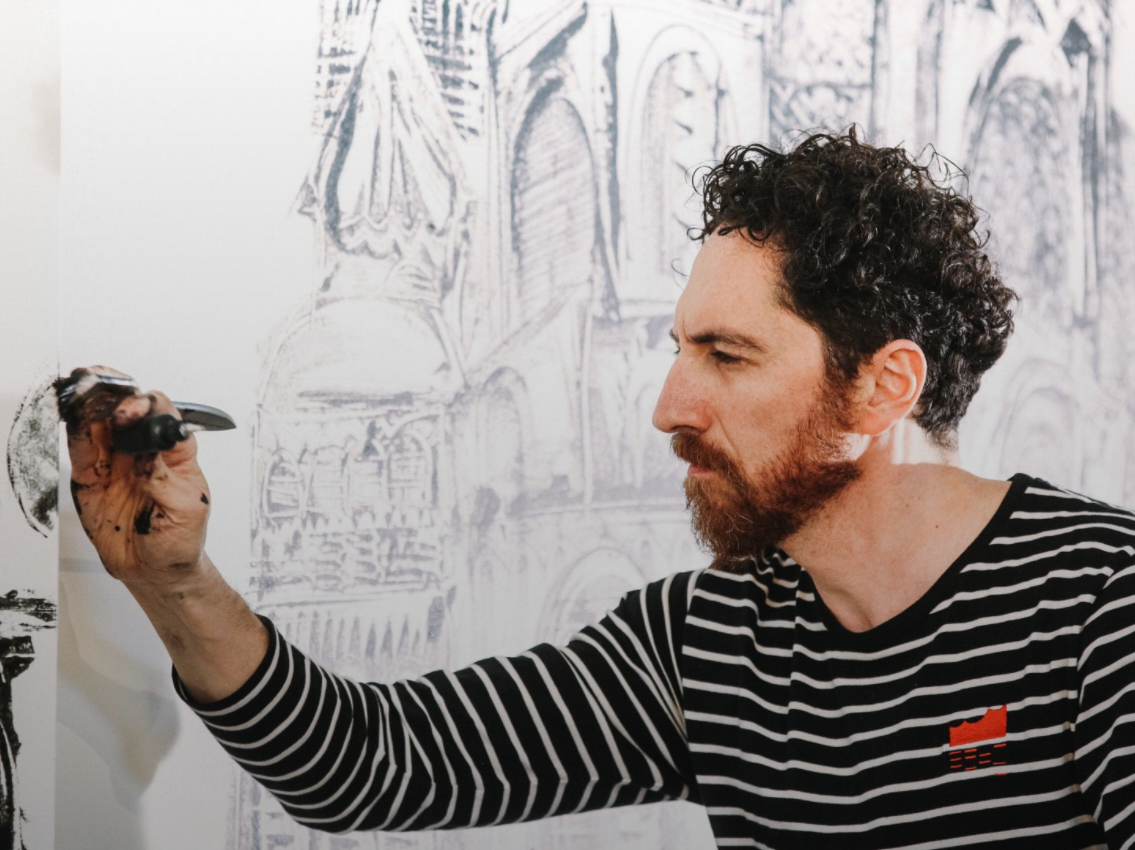 Kevork Mourad
Kevork Mourad was born in Kamechli, a town in the upper reaches of Syria. Of Armenian origin, he received his MFA from the Yerevan Institute of Fine Arts in Armenia, and he now lives and works in New York. He is represented by Galerie Claude Lemand and Rafia Gallery.

His most recent exhibit was at Galerie Claude Lemand, Paris, with whom he was also presented at the Art Paris Art Fair in 2015.

He has had solo exhibitions at the Contemporary Art Platform in Kuwait, 2014, Gallery Z in Providence, RI and at JK Gallery in Los Angeles, as well as at the Rafia Gallery in Damascus, Syria. His solo exhibition was also shown at the Courtyard Gallery in Dubai in 2010. Five of his pieces are in the permanent collection on the 70th floor of the Bourj Khalife in Dubai. He has had work auctioned twice at Christie's Dubai. He also participated in Art Moment 2014, in Budapest, Hungary, with an exhibition and live painting. His digital piece, The Map of Future Movements, toured as part of a group exhibition in Jerusalem and Ramallah, and was in the 2010 Liverpool Biennial.
With his technique of spontaneous painting, where he shares the stage with musicians—a collaboration in which art and music develop in counterpoint to each other—he has worked with many world class musicians. He is a member, as a visual artist, of Yo-Yo Ma's Silk Road Ensemble. He has performed at the Brooklyn Museum of Art, the Chelsea Museum of Art, The Bronx Museum of Art, the Rhode Island School of Design, the Chess Festival of Mexico City, The Armenian Center for Contemporary Experimental Art in Yerevan, Le Festival du Monde Arabe in Montreal, the Stillwater Festival, the Nara Museum in Japan, the Art Institute of Chicago, the Rubin Museum of Art, Harvard University, Lincoln Center Atrium, the American Museum of Natural History, the Metropolitan Museum of Art, and Central Park's Summerstage with the Silk Road Ensemble and Bobby McFerrin.
In 2010 and 2011, with actress/singer Anaïs Tekerian of Zulal, he co-produced and directed two multi-media plays, Tangled Yarn and Waterlogged, which premiered at the New York International Fringe Festival. Their latest play, Lost Spring, premiered at MuCEM in Marseille, France, in April 2015 and at the Morgenland Festival in Germany, in July 2015. Mourad's most recent performance with Kinan Azmeh, Home Within, has been touring Europe and North America for the past two years. He created the animation for an opera by Lembit Beecher, I Have No Stories to Tell You, commissioned by Opera Philadelphia. He also created a stop-motion animation piece for Manuel De Falla's Master Peter's Puppet Show, which he performed with the Knights at Tanglewood in July 2015 to great acclaim.