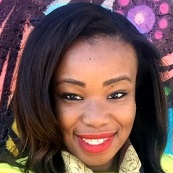 Nneka Stefania Achapu –  Founder of the U.S. Bilateral African Chamber of Commerce
Nneka S. Achapu born on May 10, 1986 is a native of Nigeria, a transplant to Italy where she was raised, and now residing in the United States. Ms. Achapu obtained her undergraduate degrees from the University of Houston in Political Science, Italian Studies and Spanish Language and Literature. She was a recipient of one of the CIL Scholarships that allowed her to continue travelling to the Middle East studying Arabic at the Center for International Learning in Muscat, Oman. She is fluent in Italian, Spanish and proficient in Arabic and Hindi.
She's s the founder of the U.S. Bilateral African Chamber of Commerce a non-profit focused on increasing bilateral trade and investment between the United States and Africa. In her role she directs the Chamber's efforts to help American businesses penetrate the African Market by providing seminars, workshops and networking opportunities for entrepreneurs interested in doing business in Africa.
She is also the co-founder of the African Public Affairs Committee (AfriPac) an organization that lobbies both the US government and European Union for the empowerment of Diaspora Africans thru civic engagement and inclusion in the political system.
Her professional experience ranges from many years in the medical field as an interpreter, to a cross-cultural communications, & government affairs consultant. Her work has allowed her to speak on cultural, ethnic identity and diversity.
Nneka has been very active in the African Community, serving in numerous non-profit boards and volunteering her time with the refugee community, World Refugee Day, Discovery Green Park, AfriPRO, and as the Africa Subcommittee Chair for the International Trade Committee at the Greater Houston Partnership, and the Houston Trade Development Council.