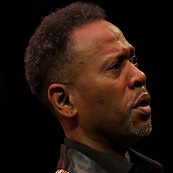 Raul Edwards-Executive Director for Arts of Tolerance at Rice University's Boniuk Institute
A highly creative individual, he sought to showcase the many influences that make up Latin American and Caribbean cultures, leading to the establishment of FLAMART (Featuring Latin American Music and Art) in 2006, with a focus on cultural diversity and education through artistic programs. In 2008 Foundation for Modern Music (FMM) extended him an invitation to join the organization as Artistic Director. In his first two years at FMM, he led the organization from local to internationally recognized, growing attendance from a few hundred to over 8,000. A collaboration between Strictly Street Salsa, FLAMART and FMM, launched Salsa y Salud (the country's first and biggest salsa/health initiative, 2011), Navidad Latina (Museum of Fine Arts, 2011), the Afro-Latin Fest, 2014, and others. His work has been featured in over 20 local and regional newspaper articles and over 35 appearances on TV/Radio.
He was a contributor in the Research Article SALSA: SAving Lives Staying Active to Promote Physical Activity and Healthy Eating with Texas Obesity Research Center (University of Houston), Department of Health Disparities Research, M.D. Anderson Cancer Center (University of Texas) and Strictly Street Salsa as published in Hindawi Publishing Corporation (2011). Civic and artistic engagements include: City of Houston, VH-1's movie The Way She Moves, Houston Grand Opera, Consulates of Panama, Mexico, Israel, Egypt and Italy; Houston Ballet, Society for the Performing Arts (SPA), Latin American Cultural Week (NY), Miller Outdoor Theatre, Rothko Chapel, Rice University, Sam Houston State University, Texas A&M University, San Francisco Rueda Festival, and others. In 2018 Rice University's Boniuk Institute for Religious Studies extended him an invitation to create an outreach program designed to promote tolerance, where he serves as Executive Director for Arts of Tolerance.
He is currently engaged in building national collaborations while expanding existing programs that continue to improve communities in the Greater Houston Area and beyond.