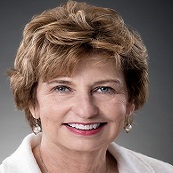 Ricki Garrett – CEO of Ricki R. Garrett, LLC
Ricki Garrett, Ph.D. is the CEO of Ricki R. Garrett, LLC, an association management firm. She also consults for associations in the areas of governance, management, board and staff development, and leadership.  In 2017, Ricki was elected Alderwoman-at-Large in Clinton, Mississippi and in 2018 became Sister Cities International State Representative for Mississippi.
Ricki founded and served as the Executive Director of the Mississippi Association of Nurse Practitioners. She was the Executive Director of the Mississippi Nurses Association from 2004-2011. Previously, Ricki served a twelve-year term on the Board of Trustees of State Institutions of Higher Learning, where she was president from 1999-2000 and served on the National Council of Board Chairs for the Association of Governing Boards. She has also served as a gubernatorial appointee to the Mississippi Ednet Board, the Mississippi Commission on Volunteer Service, and the Mississippi Humanities Council.  She currently serves on the Mississippi Council on Economic Education and the Board of Directors of Goodwill Industries.
Ricki is the recipient of a number of awards, including the Medal of Excellence, Alumnae Achievement Award, and Woman of the Year 2004 from Mississippi University for Women. She was one of 50 Business Women of the Year and finalist for the Business Woman of the Year 2005.