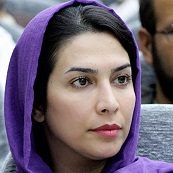 Somaia Ramish – Director of Herat Sister Cities Committee
Somaia Ramish​ is a poet, writer, women's rights activist, and scholar. As a young girl, she was a writer and women's section editor for the prestigious Etefaaq Islam newspaper. She is director of New Thinkers Social and Cultural Organization and is published in the Radia Shahrzad (Girls Radio).
She has published 3 books of poetry in Persian, English, and Urdu. She is director of the Herat Sister Cities Committee and served 4 years on the Herat Provincial Council after an unprecedented popular vote. In 2019 she ran as a candidate for the Afghanistan Parliament.