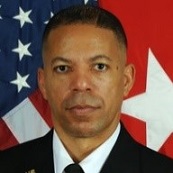 Aaron R. Dean II- Brigadier General
Brigadier General Aaron R. Dean II was born at Ft. Lewis, Washington on 20 May 1964. He received a Criminal Justice, Bachelor of Arts, Degree from Washington State University in 1987, a Masters of Public Administration from Troy State University in 2002 and a Master of Science degree from the National Defense University in National Security Strategy in 2008. His military education includes the Military Police Officer Basic Course, 1987; Military Police Officer Advanced Course, 1994; Combined Armed Services School 1995, Command General Staff College, 2000 and the National War College in the year 2008. BG Dean received an Army ROTC Commission from the Washington State University in 1984. Upon commissioning, he we appointed to the WAARNG as an Air Defense Section Leader. Additional assignments include: Military Police Platoon Leader Detachment 1, WAARNG 1985-1988; Platoon Leader, 273rd Military Police Company 1988-1989; Company Commander, 274th Military Police Company (active duty Desert Storm)1989-1992; Rear Battle Officer, 372nd Military Police Battalion 1992-1996; S-3, 372nd Military Police Battalion, 1996-1998; Plans and Operations Officer, 260th Military Police Command , 1998-2001; Executive Officer, 372nd Military Police Battalion, 2001-2002, Chief – Training Division, JFHQ-DC 2002 – 2004. Commander 372ndMilitary Police Battalion February 2004 to July 2007 (Combat Tour in Iraq), National War College August 2007 to June 2008, Deputy J3, Armed Forces Inaugural Committee July 2008 to April 2009, Director of Military Support May 2009 to September 2009, and Director of Plans and Operations and Training (J3), JFHQ-DC October 2009 to October 2011, Troop Command Commander October 2011 to February 2013. Director of Plans Operations and Training (J3), JFHQ-DC March 2013 to September 30, 2014. Deputy Chief of Staff for Operations 1 October 2014 to 30 November 2015, Chief of Staff, DC Army National Guard 1 December 2015 to present.
BG Dean was awarded the, Bronze Star, Meritorious Service Medal with two oak leaf clusters, Joint Service Commendation Medal, Army Commendation Medal with two oak leaf clusters, Army Achievement Medal with oak leaf cluster, Army Reserve Achievement Medal, Medal, National Defense Service Medal with oak leaf cluster, Southwest Asia Service Medal with bronze star, Iraq Campaign Medal, Global War on Terrorism Medal, Armed Forces Reserve Medal with M Device, Army Service Ribbon, and Overseas Service Ribbon w oak leaf cluster, Reserve Overseas Training Ribbon, Kuwait Liberation Medal and Combat Action Badge. His state awards include: District of Columbia National Guard Distinguished Service Medal, Meritorious Service Medal, Major General Charles Southward Leadership award and the Amy Physical Fitness Badge.