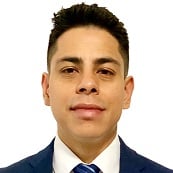 José Luis Valencia- Founder and CEO of Silogiat Worldwide Logistics
José Luis Valencia received a Bachelor's of International Business Administration at University of Veracruz. His denoted interest in the global Mexican exchange actions drove him to pursue his second bachelor's degree in Foreign Trade, at the Latin-American Center of High Studies (Branch of the Polytechnic Institute of Mexico).
As an entrepreneur, he founded his own Freight Forwarding Company in 2010 called Silogiat Worldwide Logistics, which provides door-to-door and supply chain solutions to small and medium-sized enterprises (SMEs). Nowadays it is one of the most competitive companies that boosts entrepreneurs into the foreign trade business. José is also the CEO of Intervalmon Corporation, a specialized exports company.
Alongside his professional activities, he has obtained certifications and diplomas in Supply Chain Management, The Culture and Business of China, Customs Broker Operations and International Affairs. His passion for professional studies and encouraging the next generation of foreign trade professionals led him to offer master classes and conferences at the Anahuac University of Xalapa, The University of Veracruz and the Monterrey Institute of Technology.