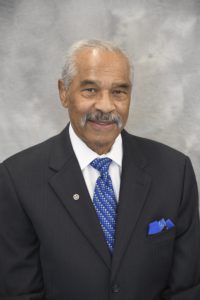 Judge Bill C. Littlejohn
Judge Bill C. Littlejohn is an attorney, philanthropist, and public servant whose contributions have left a lasting legacy on the City of Dayton, his current home of Houston, Texas, his family and abroad. Littlejohn was elected to the City of Dayton Municipal Court by the citizens of Dayton, Ohio in 1991. He retired from the bench in 2009.

He graduated from Central State University majoring in Accounting in 1969. In the fall of 1969, Littlejohn entered Ohio Northern University College of Law, earning his Juris Doctor in 1972. Littlejohn worked as an attorney for the Ann Arbor Model Cities Law Clinic and the Montgomery County Public Defender. He also served as Assistant City Attorney for the City of Dayton and worked as a senior accountant at the Charles R. Drew Health Center in Dayton. In 1976, he joined forces with Attorney Alvarene Owens to open the Littlejohn & Owens law firm. Richard Austin and Taylor Jones later joined the partnership to create Austin Jones Littlejohn & Owens, one of the largest minority-owned law firms in Ohio.

Judge Littlejohn is a dedicated public servant having served numerous organizations, including Chairman, Board of Trustees, Central State University and President, Habitat for Humanity, Dayton, Ohio. He has also received many notable awards and recognitions, including Appointed Liberian Ambassador 2022 and Outstanding Humanitarian Award, Houston International Trade Development Council Global Seven G7.
Personal Statement
I have experience in Dayton-Monrovia Sister City in Dayton, Ohio that was established in 1972, and I was, until 2 years ago, a member of the Houston-Luanda Sister City in Houston, Texas. Currently I am working to establish a Houston-Monrovia Sister City within the next 2 months.
Skills/Qualifications
Running for the Board- I believe that I have the temperament, expertise, and education to be additive to the International Board. I really want to increase the African countries participation.
Their exposure to American cities can only be positive. It will be gratifying to Americans and humbly accepted by African countries.

In October 2019, I co-founded a nonprofit corporation S.A.I.L. in Liberia, West Africa which enables food security and economic opportunity by empowering children, women, and men to harvest crops on a 200-acre farm without the use of mechanized equipment. The organization has financed tuition for 70 school children to date. I lead S.A.I.L.'s initiatives for energy resiliency in Liberia, including the installation of solar panels at the farm and public medical clinics. Hopefully, this will share ideas that can happen in Africa.

My international travel and experience include China, Liberia, Panama, South Africa, Nigeria, and Costa Rica. I was appointed Ambassador by Liberian U.S. Ambassador George Patten. My responsibility is to promote this entire year 2022 as the 200 Year Bicentennial Celebration of Liberia where freed American slaves settled in 1822.